It is probably fitting to begin by giving news of the recording project of Elsku Borga mín announced in the last (rather distant) news post (see news 2018). After innumerable studio sessions with groups of singers and solo voices, it is finally completed. The recording has been mastered at Stúdío Sýrland and awaits the right occasion to be issued together with the related collection of articles and the video by Jeannette Castioni. This publication is a reaction to the general devaluation of recorded music we are experiencing around us. The idea is to issue not only a recording but a set of texts and visuals making up a whole world of poetic, esthetic, theoretic and visual connections one can delve into in relation to the listening experience. It is an attempt to rediscover a certain perspective, or necessity, in the act of listening; something which has been shrinking for the past twenty years.
My time has been mostly dedicated to organising and editing these recording sessions, besides heading the MA programme in composition at the Iceland University of the Arts (since autumn 2018). I can all the same give news of a number of noteworthy events. The double performance of Messaggio dal vetraiofor violin and sextet came about in July 2018 (see last post) and this piece was then featured at a concert at the Shanghai conservatory played by Norio Sato's Tokyo based Nomad Ensemble on October 7 that year. It was also a great experience to hear Sulphur Pulse again at the Darmstadt Summer Courses. The group —part of Christian Diersteins class — was prepared and conducted by the excellent Håkon Stene.
Jónas Ásgeir Jónasson gave a brilliant performance of Radioflakes for accordionin the Salurinn concert hall in October 2019, having played it also at his graduation concert from the Royal Danish Conservatory. On top of that, he has now done a beautifully sounding recording of it which will presently be issued on a solo CD he is working on. Radioflakes was also on the graduation programme of Alina Dzieciol at the Franz Liszt Academy in Warsaw. She furthermore did a thorough analysis of the piece in her final paper.
I participated in Susanne Kessel's gigantic "250 piano pieces for Beethoven" writing her an atloid, namely atloid 104: lascito, a little meditation on resonance. She has recorded it and made available on BANDCAMP.
Just before the outbreak of covid-19 I managed to attend a very enjoyable concert at the Düsseldorf Tonhalle. I was asked to curate a concert of Icelandic music in the "Na hören Sie mal" series of the Notabu Ensemble conducted by Mark-Andreas Schlingensiepen. It took place on March 8, a programme constructed around my Orgoras Speaks, where the clarinet duo Zelinsky-Smeyers once more showed their incredible talent in an altogether memorable performance of this piece (of which the studio recording is still available on CD).
On June 22, there was a welcome new performance of my saxophone solo, Brain Trill, with Rolf-Erik Nyström, its originator, at an event called Oslo Solo's, organised by Oslo Sinfonietta amidst all the restrictions in vigour this summer. I heard a recording of this performance and it just confirmed my opinion that Rolf-Erik is one of the very best sax players out there.
I had long since planned to record my atloid 601for four hand-bell players. I finally organised a session with the Reykjanesbaer Bell Choir, led by Karen Sturlaugsson. These young people showed excellent skills and stamina and our version of the piece will last around 50 minutes. A part for microtonal lapidophone remains to be added to this recording and the completed work will hopefully be ready by mid 2021.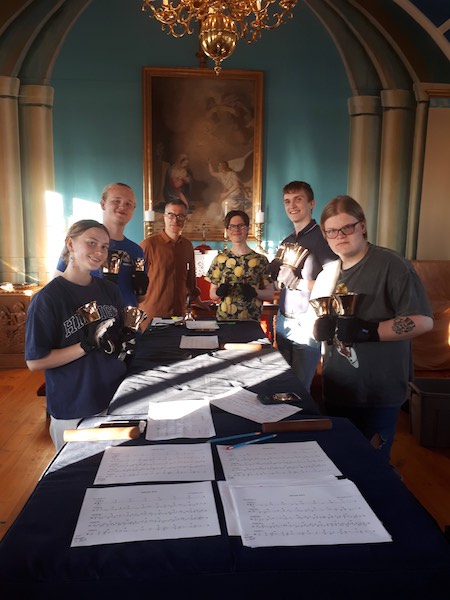 To conclude this rather lengthy news post, I can announce the completion of a volume of ten choir works from the last years. These are original compositions and arrangements I grouped together, corrected or modified some, wrote introductions to all of them. I guess it's part of being an Icelandic composer, a homage to the local choir tradition comes naturally. Needless to say, these pieces are all on Icelandic lyrics and the volume is exclusively in that language. The title is Tíu lög fyrir góða kóra (in English: "Ten songs for skilled choirs") and it should be printed by December. Here is a preview of the cover.